Have your tried a good Belgian beer? German? Czech?  Looking for an unusual place for brunch or a great place to watch a sports game?   We set out to find such  a place for our beer exploration.
We have traveled through the best Austro-Hungarian breweries all in a span of two hours during brunch at  Pilsener Haus and Biergarten. World Explorers webmaster surely enjoyed exploring the new cultures here!
Pilsener house is an authentic old brick building in Hoboken that looks like an old factory from the first glance, but the entrance takes you into a very pleasant outside garden with two huge rooms inside.
The biergarten is owned by a Ridgewood couple, they have Czech roots and really know their beer!   The menu has more than 20 excellent varieties on tap, followed by finest bottled beer from all over the world.
Dark beer connoisseurs may enjoy Kostritzer beer, the king of German beers that has notes of chocolate and coffee.  Even a wine drinker will find something amazing here. There are a few cocktails, but please don't miss a light and flavorful Weihenstephaner we loved.  The menu called it heavenly with tropical notes and we agree!!  And, of course, the beer that was Mozart's favorite Stiegl.  We picked it out for the name along and it was a distant second to the Weihenstephaner.
The food was very well crafted. The crispy mushrooms- amazing!  Schnitzel – very good and well balanced with potatoes and salad.
The actual brunch salad was tasty, but don't expect upscale quality here.
There was also a freshly baked pretzel with cheese you should not miss. But the star of the show was the beer! So many varieties and great descriptions. There is something for everyone! The smallest ½ L size was $7.
All in all, big thumbs up for a down to earth, highly enjoyable time for beer exploration!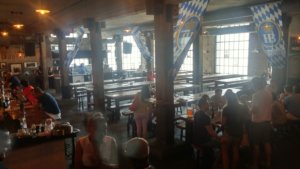 By the way, did you know that beer is one of the oldest beverages people have produced?  Its history began 7,000 years ago in Iran.   It may have started with spontaneous fermentation of certain cereals with wild yeast. About a thousand years later beer was brewed in Egypt and Mesopotamia.  Five thousand years ago it was enjoyed in China.  From then on it spread everywhere and the process of fermentation, invention of bread and beer are considered very important in our ability to develop technology!  Beer – the forefather of computers?