If you are looking for an easy roadtrip, why not head to the place that has history, culture and the waves?  Virginia welcomed our World Explorer with cannons, flags and lots of excitement.
Drive time
Leave Bergen county by 07:30 and you will be in Richmond, VA for a late lunch.  Only an hour later you are in Williamsburg, an unforgettable living history museum.   Pedestrian only historic area is great to stroll and explore.  We spent every morning in historic center and headed to theme parks after lunch with our multi-day package, after the crowds receded.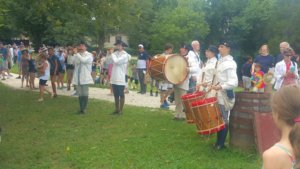 Colonial Williamsburg
In Williamsburg there are a couple of museums, blacksmith shop, colonial buildings, old taverns to visit.  The real MUST-SEE are the daily programs that show dramatizations from the Colonial times. The reenactments are excellent and actors never break character.  Some show military drills, others show signers of Declaration of Independence debating women's rights or other issues.  They even draw the audience in and make children part of the conversation.
Jamestown
Jamestown is 20 minutes away from Williamsburg, it is an English settlement, the place where Pocahontas legend was born, the very beginning of Virginia.  There are three ship replicas to climb, re-creations of the colonists form and an Indian village called Powhatan.
Busch Gardens
For a bit of culture mixed with excitement – head to Busch Gardens.  The park is organised into countries and you can visit a few in one day.  Germany, Italy, France, Scotland, Ireland and England all have their own celebrations and small villages to explore.  Older kids will enjoy amazing rides, parents may enjoy Octoberfest in Germany :).  There is a lot to learn about nature and animals that need protection in the conservation center.  Even more enjoyable is the Water Park USA nearby, albeit with less culture.
Virginia Beach
After a few days in Williamsburg our explorers drove another hour to Virginia beach and discovered great waves and even better seafood!  3 days in Williamsburg and a few days on the beach  – our recipe for a great getaway!
More photos from the trip: